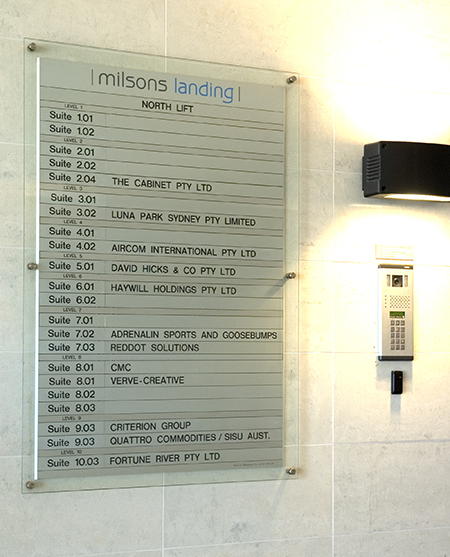 Directory Board Signs
In addition to all forms of general office signage, an area where Biz Signs can provide assistance is that of Directory Boards for your offices or building. Choose from our 7 different styles for the one which suits your building and your budget. Whether you are after one directory board for your office or multiple directory boards for you building, Biz Signs has the solution you need. From a thickness of just 6.5mm to any thickness you prefer, we have a directory board to suit the job.
All of our directory boards are made with the highest quality anodised aluminium and are built to last. The actual slats are magnetic so to change them out and move around is a simple process. At Biz Signs, we have the ability to make directory boards to any specifications to suit your job. We have a range of extremely popular models, which can be altered and customised to suit you. If you have other ideas you would like, we are surely happy to help.
Different Types of Directory Boards
1.Slim Biz: This model is an ultra slim design, only 6.5mm thick. It has a square edge and is best suited for smaller directories which are located in high pedestrian traffic areas.
2.Bizmax: This is very similar in appearance to the Avante Garde; although it is 12mm thick. It has a significantly stronger frame which is connected together with corner stakes. This directory board is most suitable for mid-range or medium sized directories.
3. VisualBiz: This model also has square edges, but is 17mm thick. It has an extremely robust frame which is connected by double corner stakes in each corner. The frame also incorporates an internal box section for added strength. This model is ideally suited for large directories.
All models above are all fully suitable to be mounted in recesses as they have a square edge and can be made to nominated custom sizes.
4. Double-Sided Visual Biz: As the name implies, this directory board is double sided, hence it can be suspended or mounted between two posts. Visually it looks the same as the Visual Biz model from a front elevation position. This can be used as a directional board where each side can be different.
5. Panache: This model has a petite 7mm wide radius edge creating a slightly different visual effect which is very appealing.
6. Portfolio: This model has a distinct outer frame which is a feature of the sign. It incorporates a 5mm wide recessed stripe which can be either paint filled or laminated with vinyl o achieve a striking decorative effect. This model is particularly well suited to be painted. The frame is also extremely robust with double corner stakes in each corner.
7. Panorama: This model has a removable door which fits neatly inside the Panorama frame. The door offers increased level of security for the panels. The shape of the frame is similar to the Panache except that it is 25mm deep.
If you would like some more information on our range of directory boards please do not hesitate to give our friendly staff a call on 1300 784 540 or send us an email enquiry.
Statutory Signage
Braille & Tactile Signage
Building Signage